Friday, September 15, 2006
BONUS PANEL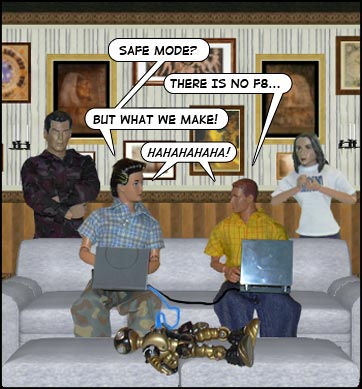 TODAY'S NEWS: Wondering what to do for the next two weeks during our hiatus? Rather than leaving you without diversions, you can check out the other photo-webcomics from the PhotoWebComics list! Links are provided below, for your convenience, listed in ranking order (Ask Dr. Eldritch has been holding the #1 spot there for a while). There's quite a variety of style and content, so you're likely to find something that suits your fancy. I know, none of them are Ask Dr. Eldritch, but please don't hold that against them! Enjoy, and check back on October 2nd to find out what happens to Ping!
#2. Perils of the Bold
#3. Nukeland Cinema
#4. Depth of Field
#5. Heroes Are Made
#6. Insecticomics
#7. Plastica Theater
#8. Alta Moda Metro
#9. Sub-Standard Comics
#10. Urv::Stikfas hero
#11. Twisted Kaiju Theater
#12. Even In The Deepest Heart of Chaos... A Glimmer Of Order Can Be Found
#13. Fluff In Brooklyn
#14. Tiny Ghosts
#15. Fuzzy Knights
#16. Michael's Exciting Life
#17. Sinister Bedfellows
#18. Pop-Quest

Click here to read the comments or post one of your own at the LiveJournal Ask Dr. Eldritch blog (No registration required)!