Friday, December 1, 2006
BONUS PANEL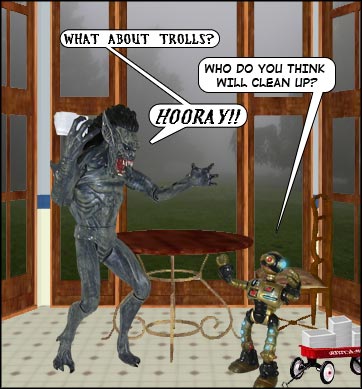 TODAY'S NEWS: Can you figure out the excerpt from Ping's novel? A Box of Virtual Doughnuts goes to the first person to correctly post a translation comment for Comic 183 here (no registration required).
Congratulations to all NaNoWriMo Participants, but especially those who finished their 50,000 words by Thursday night! I hope your experience was fun, regardless of whether you finished or not.
And on a more serious note, I'd like to address you NaNoers, especially if this is your first novel (those of you who aren't in this category may certainly keep reading, if you like): I'm very happy for you! It's thrilling to hold a printout of YOUR novel in your hands, isn't it? But remember, what you have is the FIRST draft, and if it's just over 50K words, a rather short one. You may be thinking of submitting it to publishers right now, but before you do, you should go through the grueling process of Revision. Probably multiple revisions.
If you're unfamiliar with the Publishing Industry, you should study up a bit before taking a stack of manuscripts to the Post Office. There's too much to know for me to give you a primer here, but I would warn against making a deal with the first publisher who shows any interest. Especially if they want you to pay any money to have your work printed. Learn the difference between legitimate Print-On-Demand publishing and unscrupulous vanity presses who don't follow through on their promises. The NaNoWriMo website and forums have information on how to avoid scams. Read them. Don't let someone exploit your excitement and accomplishment. Good luck, and keep writing!
Click here to read the comments or post one of your own at the LiveJournal Ask Dr. Eldritch blog (No registration required)!