Wednesday, August 9, 2006
BONUS PANEL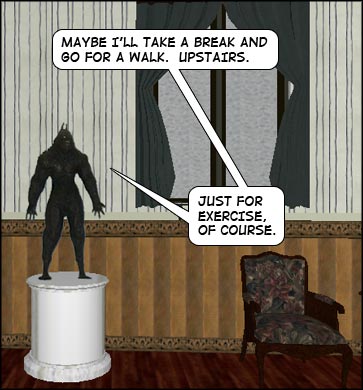 TODAY'S NEWS: Congratulations to Reader Keith, who won Week #1 of the Ask Dr. Eldritch Voter Incentive Puzzle Contest! Thanks to everyone who entered, and I hope you're collecting this week's words to send them in on Sunday. Prizes are to be won, and you could be the winner!
I hadn't checked the Eldritch Realm Map on Frappr for a while. I went out there yesterday, and there are a BUNCH of new names! So I updated the graphic on the Comic Page. Previously it just showed North America. But since the Ask Dr. Eldritch fanbase is global, now it shows all the pointers on the map! Readers in Australia, South Africa and Europe can probably spot their own pointer. Thanks, everyone! It's exciting to see new names added! (There's also a larger version on the Home page!)
ETA: TopWebComics is down right now, so if you'll promise to vote when it comes back, I'll give you today's words, just in case: A GALLERY. (Note, you still can vote at Buzzcomix to get the rest of today's words!)
Click here to read the comments or post one of your own at the LiveJournal Ask Dr. Eldritch blog (No registration required)!